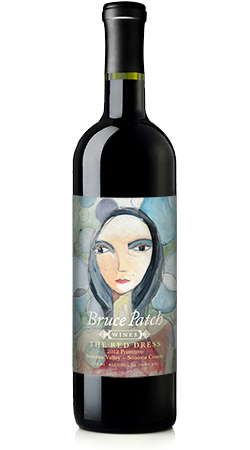 2012 'Red Dress' Primitivo
Sonoma Valley — Sonoma County
90 pts-Zinfandel Chronicles-May 2016
115 cases produced
A huge, lush wine made from 100% primitivo grapes — the Italian cousin to zinfandel — from the Rose Vineyard in Sonoma Valley. Enjoy now or cellar.
*****
This is our first attempt at primitivo. The fruit comes from the Rose Vineyard off Adobe Road in Kenwood in the Sonoma Valley. Owners Steve & Colleen Rose own the Spanish Tapas Bar The Vineyard Inn on route 12 in the heart of Kenwood. The vineyard is planted with primitivo and merlot. 'Red Dress' spent 30 months in the barrel and was bottled in July, 2015.
Wine Profile
Tasting Notes
Aromas of earth and berries…silky lush berries on the palate with coffee-like nuances in the finish. Primitivo is a close relative of Zinfandel.
Product Reviews
Calvin Racine
(Feb 26, 2016 at 10:19 AM)
Very bright acidity to cut the rich fruit. Bing cherry, dusty cedar, cinnamon spice. Very well received at consumer tasting.
Ted Beckwith
(Mar 31, 2016 at 11:46 AM)
Incredible wine. Even better than Bruce's previous wines at WG. Big, big wine, perfect for warm weather and BBQs.
Dwight Miller
(Mar 31, 2016 at 3:18 PM)
I have been following Bruce and his wines for about six years, and this is one of his best efforts. It has perfect balance among fruit, alcohol, acid and tannins. Also great blackfruit flavor and versatility in pairing with many savory foods. Definitely not a fruit bomb, but a sophisticated red, which should get even better with some time in the bottle. Great job Bruce!!!
Lucilla Ulleo
(Apr 4, 2016 at 1:38 PM)
Best Primitivo I've ever had, here or in Italy.
Orlando O'Shea
(Apr 4, 2016 at 4:09 PM)
I opened this wine at a dinner party with some very wine saavy guests. It was a big hit, it had a great earthiness and plenty of complexity. This is just the kind of rich, fruity wine that I look forward to adding to my rotation.
WineWeirdos.com
(Apr 5, 2016 at 2:54 PM)
See our video review of the wine here: https://youtu.be/Cf8x5ocE2Ho
Wendy Flowers
(Apr 28, 2016 at 6:31 AM)
I had the pleasure of meeting Bruce at a Chamber mixer when he was at WG. I have followed his wines for quite sometime. My husband and I luv this wine. It excellent for pairing with many foods.