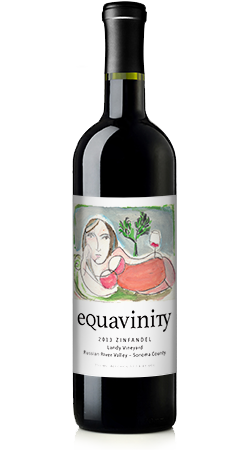 2013 Landy Vineyard Zinfandel
Russian River Valley – Sonoma County
Gold Medal-Orange County Fair-June 2016
Chairman's Award-Orange County Fair
1st place-Figurative Label-Orange County Fair
91 pts-Zinfandel Chronicles-May 2016
200 cases produced
Equavinity represents a collaboration between two Sonoma icons — zinfandel impresario Bruce Patch and Russian River Vineyards, one of West County's most recognizable wineries. You'll find this wine — their first release — reflects the best of both.
*****
The 23-acre Landy Vineyard lies in the fertile Russian River Valley, with diverse terrain ranging from rocky hillsides to richly soiled slopes. It is the warmer orientations of the vineyard that produce the superbly fruity and nuanced zinfandel grapes utilized in this wine.
Wine Profile
Tasting Notes
For Zin lovers…Big, red raspberry nose…silky red fruit with notes of white pepper. Elegant and focused without sacrificing aroma and flavor.
Product Reviews
WineWeirdos.com
(Apr 5, 2016 at 2:55 PM)
Check out our video review of this wine here: https://youtu.be/UEjH8ta1sPI
John Gadigian
(Apr 26, 2016 at 4:27 PM)
Fantastic, fruity long finish. This Zin is comparable to Ridge's best zins, but for a lower price!
Dwight Miller
(May 26, 2016 at 10:52 AM)
Very big dark fruit but balanced nicely. Body is meaty; soft tannins; drinkable today; lingering finish. Great for sipping or enjoy with red meat or pork.
Jennifer Annsi
(Sep 19, 2016 at 12:20 PM)
Yum! Reminds me of the old time Chiantis I use to drink in high school at the dark red Italian restaurants, Only SO much better!!