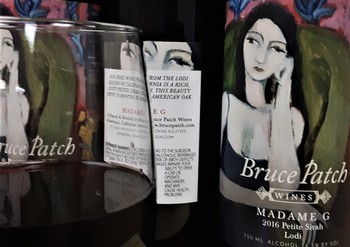 2016 'Madame G' Petite Sirah is a real palate pleaser and a terrific BBQ wine too. Fire up the frill and pair your ribs, chicken, hamburgers or anything with this silky smooth Petite Sirah....We only produced 67 cases!
A Little History of California Petite Sirah...Petite Sirah earned its name from the small size of the berries. It is one of the biggest, most powerful and tannic wines produced in America. In California, Petite Sirah was at its peak of popularity in 1938 with 7,000 acres planted. The reason so many vineyards were planted to Petite Sirah in the 1930's was the grape was very popular with home winemakers during Prohibition. However, the amount planted across America was almost cut in half by the late 1960's when about 4000 acres were devoted to the varietal. Things were even worse by 1990 when barely 1,400 acres remained. Today, Petite Sirah has regained it's popularity in the Golden State. Now nearly 1000 producers are working with this grape. Currently, close to 10,000 acres of vines are planted to Petite Sirah in California
Buy TWO 6-packs and get a full case delivered to your home or office for only ONE DOLLAR shipping. That's right, $1 to anywhere we ship on the mainland US..