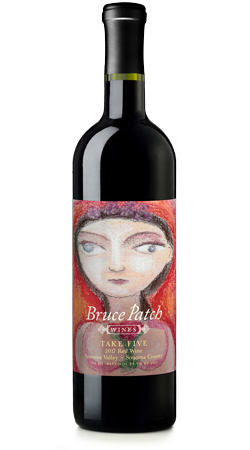 35% Off...just $32.50 per bottle!
The 2017 'Take Five' is a delicious blend of 68% Cabernet Sauvignon, 18% Malbec, 6 Merlot, 5% Cabernet Franc & 3% Petit Verdot. Alcohol 14.5%. We made about 125 cases.
The nose is true to what you'd expect from an elegant Cabernet Sauvignon, along with hints of allspice, and cedar-and the deep dark color leads to a long, lingering finish. It's a perfect wine for hearty foods and red meats. Finishing last never tasted so good.


What our friends are saying about 'Take Five'….

"An iconic California take on a Bordeaux-style blend — big fruit forward, with blackberry, wood smoke and chocolate. But lingering long on the palate and fading into anise on the finish." David G. Raleigh, NC
"Elegant and complex, this full bodied powerhouse was the star of our monthly wine tasting dinner. A welcome addition to our cellar!" Omar K. Newport Beach, CA
"We fell in love with this delightfully robust vintage, great balance of savory fruit flavors and chewy, meaty mouthfeel. Another Bruce Patch winner!" Gary S. San Francisco, CA

"Blockbuster fruit with velvety mouth feel and super long finish" Arnie W. Melbourne, FL


Buy TWO 6-packs and get 12 bottles, a full case, delivered to your home or office for just $1.