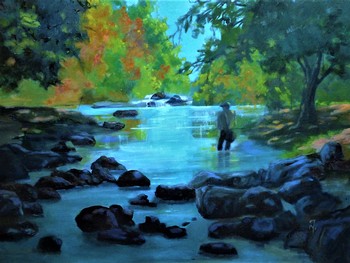 Fly Fisherman
18" x 24" Oil on canvas in floating black frame

Shipping included or pick up at studio in Forestville

I've known a few fly fishermen in my life and was surprised to find many don't care if they catch anything and if they do, they often throw it back. It has always looked like the ultimate meditation to me. The settings are exquisite and you have to get right into the environment to do it well or at least look like you're doing it well. Then you stand there, often for hours, waiting and waiting.