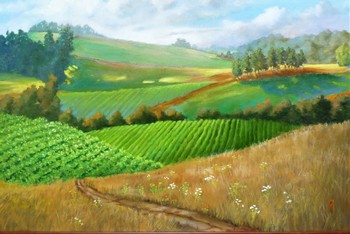 Vineyards to the Sea
24" x 36" oil on canvas in brown 2" frame,

From some spots on Dry Creek and especially West Dry Creek Roads you can see vineyards far into the distance and imagine them stretching all the way to the ocean in Bodega Bay or Jenner. Areas light up with different degrees of intensity as the sun seeks holes in the clouds. There is not a building or a person to be seen, only the occasional bird.